PRAYER:
How can we make a difference in You life?
This month we will pray for:
Information regarding a radio station for Hazelton

Melissa - a job, and a way for her to go to Australia

better medication for Tony

a church in High River, Alta

tolerance and forgiveness

comfort for the grieving

cooking job for Linda

Sarah - eye surgery on Friday

recovery for Florence's dog
Charlotte and Betty closed our worship and requests with prayers.

GIFT: We had a lot of fun at Christmas in giving our presents to the family in Two Mile. They even wrote a thumbs-up in the Bulkley Valley Browser saying that it was the best Xmas for them all. And now so that their new baby boy has arrived!
This month we will remember Vicky Robinson, who we can see bombing all over the place on her motorized chair. She is a pretty good driver on those slippery hospital grounds!! Diana Hatzi, who is her neighbour, delivered the box of goods. Thank you for the smile, Vicky, as you accepted the gifts!
PARTNERS:
January partners are:
Diana Hatzi ~ Heather Hagen
Alma Blabey ~ Charlotte Smith
Bonnie McCreery ~ Linda[Louie] Hagen
Calvin's Linda ~ Alice Bennett
Betty Hagen ~ Florence McLeod
Rose Johnson ~ Sarah Redding
Have a great time getting in touch with you partner Ladies! Mrs. Blabey--I have to tell you, everyone wanted your name!
Ideas to share with your partner, one for every week:
Work together on your crazy quilt block
Share a prayer list together
Make a recipe using your favorite ingredients
Share a story
DEMO:
Sherry Blabey gave a very interesting demonstration on Quilting. She had her projects hung on the bulletin boards. It was very inspiring to see the quilt blocks and just to look at the many different pieces of material arranged in a decorative style. There was a Christmas runner, a favorite applique wall hanging that was a memory of her grandmother when on the farm with sheep and hearts and barn in the center. A little tiny mini quilt on a hanger must have been fun! to make.
Sherry also showed us how to cut out a block using a self-healing cutting board using rotary scissors, there were plastic ruled rulers, as you will see in the picture below. When all the cutting was done a couple of little scraps were left over. Someone asked what could be done with that! "Oh!" she said, "when there are left over pieces of material, I never throw them away! They can be used to tie fat quarters." We also learned what that was! It is a yard of material cut into four pieces, tied up with the little left over piece.
Thank you so much, Sherry, we had lots of fun.......
Drawing to a close, we all rose, joining hands in prayer, blest the food we were about to eat, and sang the theme song -Blest Be The Tie That Binds.
SOUP FOR THE EVENING:
Couliflower and Broccoli Soup
Sandwhiches, crackers with hummus
NEXT MEETING
Heather will make the soup
Louis Linda Demo: Ravoli
February 20, Sunday, 4-6pm at the church unless plans change!
Bring your quilt square, tooney, gift, sandwhiches for Valentine meal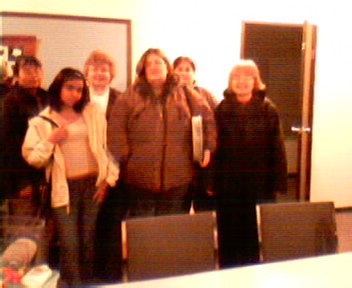 Here we all are for the traditional pic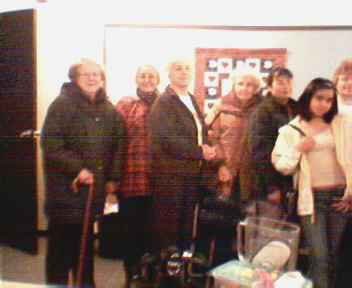 you can see Sheri's wall hanging
BIRTHDAY GREETINGS TO:
Rose Webb ~ Feb 21
and
Rose Johnson Feb 1