PRAYER TIME:
We know that prayers were answered for Bonnie--she was walking thru the bush and fell down. A muscle or something was pulled but her neck was healed. God had a strange but funny way of answering that prayer!!
Jordan--we are glad that you are a little happier about being in our part of the country.
The Garbathon was a success and everyone survived the day with a good workout, good food.
Continue to pray for---
Ruth T
Linda H and health
Marvin regarding serious health problems
Jo for strength for her back and Camporee
Pathfinder trip - safe travels and a good experience for all
Denise and her dad -- health
Brian P - strength and rest
Geraldine Marshall - health
Pray for those who are mouring the loss of loved ones --Shari, Gloria, Jackie,
The Dedication prayer was offered by Betty Hagen. She also read a story/prayer for the ladies present--Click on the Prayer which you will find at the end. It is very nice. Thanks for being the record keeper Heather!!!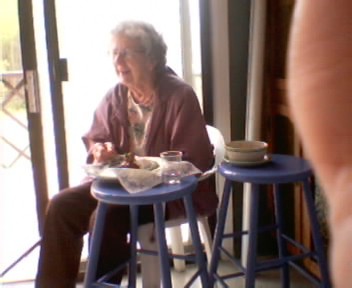 One visitor came and sat beside her - yellow jacket -but he got quickly chased out
FLORENCE'S STORY:
Florence has quite a story to tell at this meeting! We are so sorry we did not know you were allergic to lilacs. The whole table was decorated in a rose colored satin tablecloth with our usual dishes, but the centerpieces were glass jars, a strip of white lace around it, and in them were lilacs. She was persuaded to stay as she sat by the open door to keep by the fresh air. I hope you did not suffer after, we are glad you stayed though.
Her story was of her mother who was raised in an orphanage. The book is called George Mueller ~ young rebel in bristol by faith coxe bailey
GIFT:
Herb DesJarlais meetings were a great inspiration to all who came. There was a special family who also came and sang often. To encourage this family in their life we would like to offer them our way of saying "May the Lord bless and keep You as you walk in this way with us". Sam Aksidan and his family.
PARTNERS:
Last month must have been a very busy one for everybody because we decided to keep the same partners so we could have a chance to do something with them...well Linda and I were old partners already, we phoned lots. She gave me a beautiful yellow and nice smelling candle. How did you know that yellow is my favorite color!!! Thank you. Last month Alice gave me a lovely bookmark. Thank you Alice. It is nice to have you back again.
THE WONDERFUL WOMEN IN MY CIRCLE!!
When I was little, I used to believe in the concept of one best friend, and then I started to become a woman. And then I found out that if you allow your heart to open up, God will show you the best in many friends. One friend's best is needed when you're going through things with your man. Another friend's best is needed when you're going through things with you momma. Another when you want to shop, share, heal, hurt, joke, or just be.
One friend will say let's pray together, another let's cry together, another let's fight together, another let's walk away together...One friend will meet your spiritual need, another your shoe fetish, another your love for movies, another will be with you in your season of confusion, another will be you clarifier, another the wind beneath your wings....But whatever their assignment in your life, on whatever the occasion, on whatever the day, or where ever you need them to meet you with their gym shoes on and hair pulled back or to hold you back from making a complete fool of yourself....those are your best friends.
It may all be wrapped up in one woman, but for many it's wrapped up in one woman, but for many it's wrapped up in several....one from 7th grade, one from high school, several from the college years, a couple from old jobs, several from chuch, on same days your mother, on others your sister, and on some days it's the one who you needed just for that day or week that you needed someone with a fresh perspective, or the one who didn't know all your baggage, or the one who would just listen without judging....those are good girlfriends/best friends.
Men are wonderful, husbands are excellent, boyfriends are awesome, male friends are priceless...but if you've ever had a real good girlfriend, then you know there's nothing like her!
Thank God for girlfriends, those who honor intimacy, those who hold trust, and those who just got you back when you feel like life is just too heavy! I thank God for you. The special bond we share, that's unique to us. The words we've shared. The prayers we've sent up. The laughs, the tears, the phone calls, the emails, the shopping, the movies, the lunches, the dinners, the late night talks, afternoon talks, the weekend talks, all the talking, talking, talking and the listening, listening, listeningllll So whether you've been there 20 minutes or 20 years, thank you!
Bev A & Linda H
Alma B & Bonnie Mc
Rose J & Diana H
Charlotte S & Alice B
Laura R & Heather H
Ruth T & Betty H
Florence Mc and Denise O will be our un-Partners because they needed a reprieve. So will Valerie and Jo because they are busy with work etc We will be thinking of you anyway!! and glad you are back in Hazelton Valerie.
Here we are out by the trees
in the sunshine
Mother's day roses for each one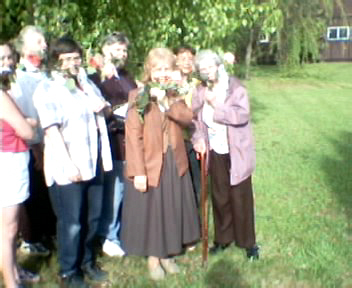 all suave!!
BLEST BE THE TIE THAT BINDS
Closing with the song in our voices we stood in the traditional circle. praying that God would bless us all and the food which we were about to eat...thank you so much for coming out...lets eat!!! we are hungry.
Betty Hagen has made some delicious Beet Borstch and Lentil Soup. There are sandwiches, cheese and crackers. Special for Mothers Day is a Chocolate Sunday Pudding cake with ice cream and strawberry on top.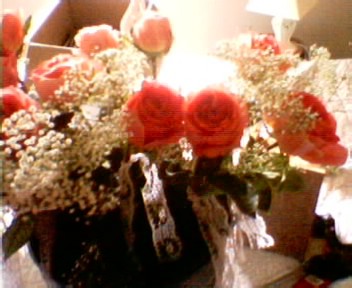 LATIN AMBIANCE
The name of the rose spells romance and beauty for each of you!! as was the beauty and faithfulness of Sarah.