Here we are!! AGAIN! It is really nice to be back in the Shoop House again. We have room to put the dishes, tablecloths and pictures we have collected for our club. Decorations and flowers, clean place to wash the dishes, and a warm place to sit for the meal and chat, which we do with a lot of enthusiasm!!
This time was no exception! as ten of us deposited the vegetables-already cut up and ready to cook for the stew in the pot. PEAS, CARROTS, POTATOES, ONIONS, CORN, CELERY, and imitation DOG FOOD! which of course was soymeat of some kind that was very good. Jo had a delicious gravy when all the stuff was done that she added to the cooked veggies. Then a few SPICES, put water in the pot, the stew cooked while we sat down and concentrated on a moment of worship.
Diana Hatzi-Miseva opened our meeting with a prayer of petition that each one would receive a blessing.
The topic we chose was on Rebekah. Last month we read about Jochabed and her characteristics. Sarah will be postponed until next month as it is a bit longer study. Each of the matriarchal ladies personality traits can be translated for our own personal salvation. See if you can relate to any of them as we list some of Rebekahs traits.
We are looking at one woman today-- we don't want men to go home and say women have to be perfectly submissive and obedient wives, whose self-worth and self-esteem is tied to building their husband's ego. We are also looking at Sarah's daughter-in-law, Rebekah, a woman whom Sarah never met and if she had been alive maybe would not have approved of her for her only son Isaac. Listen why....
Rebekah, the wife of Isaac, is a very different personality than Sarah. She is an amazingly independent woman, self-confident, decisive. When Abraham's servant arrives in her town looking for a bride for Isaac and inquires about Rebekah, Rebekah says without hesitation, 'Yes, I will go." This one decision will determine her whole life, but she is ready to walk away with Abraham's servant into a primitive, unknown land to marry a man she had never met. Rebekah has guts. She becomes Isaac's wife.
Sometime later she becomes pregnant. She discovers she has twins and the babies fight with each other, even inside the womb. Rebekah wonders what is going on and asks the Lord. God lets her into a mystery. God says, "There are two nations in your womb, two rival people, one will be stronger than the other and the older will serve the younger." The twins are born – Esau, the older and Jacob the younger. The Scriptures say that Isaac loved Esau and Rebekah loved Jacob…another dysfunctional family in the Bible.
When it comes time for the blessing to be passed on to the customary oldest son, Isaac sees no reason to depart from established tradition and prepares to bless Esau. Rebekah, though, upon hearing of Isaac's plan initiates this scheme of rather blatant deception and manipulation. In this story Rebekah connives to have the blessing bestowed upon her favorite, upon Jacob.
Rebekah is not like Sarah. She is not the obedient wife, patiently waiting on her husband, submitting to his authority. She takes things into her own hands, even if it is against the intentions of her husband. Why? I sense that Rebekah has the better insight from God here… perhaps because she had been given this prophecy earlier … perhaps because she is more attuned to the ways of the Lord than Isaac. Maybe she sees that Jacob is better prepared to pass along the faith tradition that had begun with Abraham. Jacob would be a better servant of God than Esau. She feels called to intervene with her husband's intention so that what she believes is God's intention might be fulfilled, willing to risk the wrath and words of her husband and oldest son for the Lord's will. The last glimpse we see of Rebekah is sending Jacob far off to live with her brother Laban while she remains to stand up to Isaac and Esau. She is a gutsy lady.
Through her discernment, Rebekah showed courage and broke with the established custom. She defied the patriarchal system to bring about what she felt was God's will and God's purpose. Was Rebekah's example of deception an example that we should follow? I don't think so. But God was able to use it for the advancement of God kingdom.
We have two women here, (which we will study about next month), in the Old Testament, whose stories are only chapters apart, who lived only one generation apart, but who felt called to serve God in strikingly different ways ... one through submission to her husband, the other feeling called to deceive her husband for a greater good. I think both loved their husbands deeply, and their husbands loved them. I think God used the qualities of both of these women for the greater good. Both were used in carrying out God's plan of salvation.
I sometimes wish things were more cut and dried in the Bible, but it's not always that way. As we read the biblical stories, people don't always act the way we would like them to act. The "heroes" don't always act heroic. The "good" people aren't always good. The Bible is brutally honest about the faults of God's people. God's reign advances in many ways, through many kinds of people, none of whom are perfect save Jesus Christ. But God works even through the imperfectness of this world. God will work through the imperfectness of each of us. Because we live in this imperfect world, God has no choice but to use imperfect people such as you and me.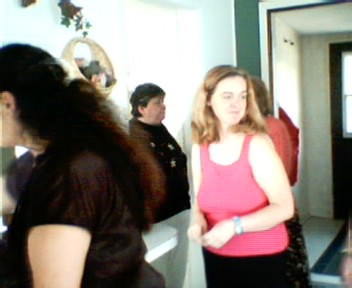 C'mon everyone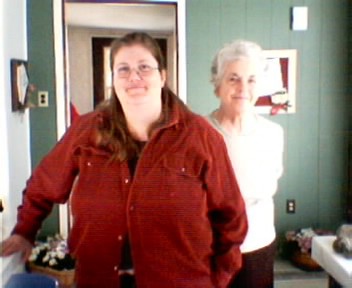 this has been fun!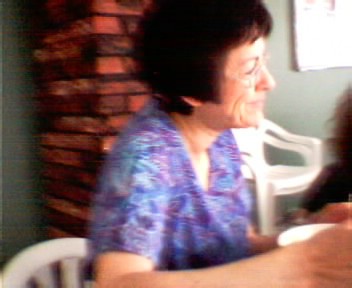 Valerie came at the end and told us of her dog who is aCat!
Ruth T's cooking without sugar. It was gooood.
The table had fresh white paper, because you know, dogs like to go on paper!, and we could write our notes and graffitti on it, Ruth had an elaborate note I saved...it is tacked to the bulletin board. and Rose drew some cute dogs.
For centerpieces my sister sent some purple violets. I used cups for vases that worked very well! Each of the ladies could take home a doggie bag which was a homemade dog biscuit wrapped with a paper ribbon tucked in a small paper bag.
Here is the recipe....they are good for humans too......(click on the title for more recipies)
Humane Society Recipe
From the Peninsula Humane Society, San Mateo, Ca
1/2 cup cornmeal
6 tbsp Oil
2 cups whole wheat flour
2/3 cup water or broth
Preheat oven to 350 degrees. Mix all ingredients together well. Roll out to 1/4 inch thick. Cut into desired shapes with cooky cutter. Bake 35-40 mins, let cool and store in tightly sealed container.

We were a little late starting so while everyone ate, each one told about their pets.
Heather--had a dog named Heidi
Bonnie--granddogs that are golden labs, helper dogs, named Bailey, Riley
Denise -- owned a tabby cat named Mallory who would roll out of bed when someone said "Rise and Shine"
Florence -- a dog that prayed, black called Shadow
Betty -- married 51 yrs to a man who owned a cat named Sylvester J Pussycat, an orange tabby who did not like his tail to be pulled! the cat and her truned out to be best friends
Valerie -- a spaniel named Sparkle who had many "other" friends and liked the Hagen yard. Now she has a "dog" named Magi who is a cat. Dayle barked like a dog but he was a human, Their favorite dogs are cats!
Rose -- When Victoria was little they found a Poopom named Trixie that fit in a pocket when they brought it home, it was so little
Jo -- owned many dogs, a Hentz 57, Honey, Jeremy, Ginger who they don't have anymore
Laura -- has an American Eskimo dog named Cuddles, a very good companion
Diana -- appreciates a tiny dog for around the house
Ruth -- although not a dog either chose a llama
Bev --- my dog is a cross Pyrenee and something else that makes him look like the Two Mile tiger!! His name is BOB. and can make other dogs run 30km wether they think they can or not. but he is very friendly.